Florida Title Attorneys
Home
Available 24/7
954-464-3210
Foreclosures Category
The Mortgage Debt Relief Act of 2007 has been extended for one year.  This is very good news for Florida homeowners trying to obtain short sales.  Usually cancelled  debt is considered income, but a provision of the Debt Relief Act allowed borrowers  "to exclude certain cancelled debt on [a] principal residence from income. Debt  reduced through mortgage restructuring, as well as mortgage debt forgiven in  connection with a foreclosure, qualifies for the relief."  The Act was set to expire on January 1, 2013,...Continue Reading!
Florida Title Attorney Views HAFA Short Sales as Strong Option for Underwater Homeowners As a Key Largo real estate lawyer, I have written extensively on the potential benefits of short sales.  A Short Sale is the sale of real estate where the proceeds from the sale are less than the balance owed on the property's loan(s).  As a result, the seller does not realize enough money from the sale to pay off the loan(s) in full.  In a successful short sale, the lender...Continue Reading!
Florida Keys real estate lawyer reports that Florida is Second in the Nation for HARP 2.0 Loan Applications The Home Affordable Refinance Program (HARP) is a government-backed loan program, meant to help U.S. homeowners who owe more than their home is worth. The HARP refinance program is widely available today at many of the nation's banks from  Florida to California and everywhere in between. The HARP program guidelines were updated in order to be more accommodating to households with little or no equity. The...Continue Reading!
Coral Springs Title Company Notes that South Florida Homebuyers Feel Now is the Time to Buy As a Florida Keys real estate lawyer, one of the most frequent questions I am asked by potential homebuyers is whether now is the right time to buy a home.  The combination of bargain real estate prices and rock bottom interest rates means now can be the perfect time for South Florida homebuyers to seal the deal.  Home prices fell in January across South Florida and...Continue Reading!
Coral Springs Title Company Finds that Title Insurance is More Important than Ever in Tough Economic Times In difficult economic times, title insurance is a critical tool in protecting yourself from others' financial problems.  Homebuyers and Lenders buy title insurance to ensure that a property can be legally transferred from the seller to the buyer. It protects you (or your mortgage lender) against problems relating to the property's title prior to the date of the policy. Everything in the real estate transaction process depends...Continue Reading!
Coral Springs Real Estate Lawyers at the Law Offices of Erik S. Bloom, P.A. Process HARP 2.0 Loans on Behalf of Lenders and Mortgage Professionals Across Florida If you're underwater on your conforming, conventional mortgage, you may be eligible to refinance despite your negative equity.  HARP (Home Affordable Refinance Program) was started in April 2009. The program has been re-launched as HARP 2.0 with more relaxed guidelines in March 2012.  The new guidelines are designed to allow more underwater borrowers to qualify for the program.  Many homeowners...Continue Reading!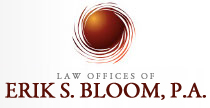 Coral Springs Office:
11555 Heron Bay Blvd. Suite 200
Coral Springs, FL 33076
Phone: 954-464-3210
Key Largo Office:
100410 Overseas Highway, #203
Key Largo, FL 33037
Phone: 954-464-3210