Florida Title Attorneys
Home
Available 24/7
954-464-3210
Coral Springs Title Company Notes that South Florida Homebuyers Feel Now is the Time to Buy
As a Florida Keys real estate lawyer, one of the most frequent questions I am asked by potential homebuyers is whether now is the right time to buy a home.  The combination of bargain real estate prices and rock bottom interest rates means now can be the perfect time for South Florida homebuyers to seal the deal. 
Home prices fell in January across South Florida and much of the nation, according to Standard & Poor's / Case-Shiller index.
Prices in Palm Beach, Broward and Miami-Dade counties declined 1.9 percent from a year ago. Denver, Detroit and Phoenix were the only three of 20 metro areas nationwide where prices rose compared with January 2011.
South Florida was one of three metro areas to see prices rise compared with December. Phoenix and Washington, D.C., were the others.  This rise in prices in the past month here in South Florida along with historically low interest rates will cause many homebuyers to pull the trigger and buy now.
If you make the decision to buy a home, choosing the correct real estate professionals to work with is critical.  Having a knowledgeable realtor to give you a true sense of what is available and what homes are really worth is important.  It is also important to have an experienced Islamorada real estate lawyer to assist you with your closing.  
The Coral Springs real estate attorneys at the Law Offices of Erik S. Bloom, P.A. have closed thousands of purchase and refinance transactions throughout the State of Florida on behalf of mortgage professionals, including short sales and foreclosures.  Our Key Largo title company provides the highest level of professional services available in the title industry.  Call our firm today at (954) 603-0550 to place a title request or receive a free consultation.  You can email the firm at [email protected].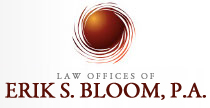 Coral Springs Office:
11555 Heron Bay Blvd. Suite 200
Coral Springs, FL 33076
Phone: 954-464-3210
Key Largo Office:
102901 Overseas Highway,
Key Largo, FL 33037
Phone: 954-464-3210