Florida Title Attorneys
Home
Available 24/7
954-464-3210
Law Offices Of Erik S. Bloom, P.A. represents lenders and realtors in foreclosure matters.  We also offer our clients real estate settlement and liquidation services.  Our services include: 
–          Foreclosures Proceedings
–          Evictions Proceedings
–          Contract Preparation And Review
–          Title / Lien Searches
–          Sales Document Preparation
–          Statewide Closing Services
Our Parkland title company and Coral Springs real estate lawyers service clients in all 67 Counties across Florida, including the Ft. Lauderdale-Miami greater metro area through the Florida Keys and up to West Palm Beach and localities such as Coral Springs, Weston, Boca Raton, Davie, Pembroke Pines, Ft. Lauderdale, Tamarac, Key Largo, Islamorada and Marathon to name a few.  Our firm also has a presence in Cooper City and Miramar Florida as well.
Law Offices Of Erik S. Bloom, P.A. has never lost sight of the fact that our success is tied directly to the success of our clients. Our Broward County title company & Florida Keys real estate lawyers continuously strive to develop life-long relationships with our clients through trust, preparedness and tireless service. At Law Offices Of Erik S. Bloom, P.A., the trust that we build with each of our clients continues to be the backbone that drives our practice.
Please contact the Boca Raton title company & Islamorada real estate lawyers at Law Offices Of Erik S. Bloom, P.A. today at 954-464-3210 in Broward, the Florida keys and Miami-Dade County. You may also email us to schedule an appointment.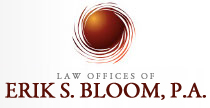 Coral Springs Office:
11555 Heron Bay Blvd. Suite 200
Coral Springs, FL 33076
Phone: 954-464-3210
Key Largo Office:
100410 Overseas Highway, #203
Key Largo, FL 33037
Phone: 954-464-3210