Florida Title Attorneys
Home
Available 24/7
954-464-3210
SERVICE…..
As a law firm upholding the highest standards, our name and reputation is attached to every order we process.  We understand that in today's real estate market, we have to work even harder for our real estate professional clients to make their jobs easier. To that end, we strive to provide an unmatched level of professional services to our clients and the highest level of personal attention to every transaction we process.  Never again wonder about the status of your deals, we'll call you.  Never again waste your valuable time tracking down your title company with phone call after phone call, we're available.  The focus of your efforts should be on cultivating new business, not doing the title company's job for them. Let our Parkland real estate lawyers help you accomplish that by taking the stress off of the processing and closing of your real estate and mortgage transactions.
EXPERTISE…..
The Coral Springs real estate attorneys at Law Offices Of Erik S. Bloom, P.A. have extensive experience representing clients in all phases of the purchase, sale and refinance of residential and commercial real estate, including short sales, foreclosures and bank owned properties.  The firm offers real estate profeessionals a full range of title and closing services, which provides clients with all the benefits of a title company with the added benefit of having our attorneys working on their transactions.
CONVENIENCE…..
We maintain beautiful facilities to ensure our services are convenient for clients throughout South Florida.  We can close your transactions in our offices, or if you prefer, we'll come to you or your client, any time, in any County in the entire State of Florida, including Broward, Palm Beach, Miami-Dade County and the Florida Keys.
Our job is not just to close YOUR transactions, it's also to make YOU look great in the eyes of YOUR clients.  We constantly strive to do whatever it takes to make your deals close in a professional, efficient manner. 
        We look forward to working with you on your future transactions. 
Please contact the Key Largo real estate lawyers at Law Offices Of Erik S. Bloom, P.A. today at 954-464-3210 in Broward County and 305-290-0690 in Monroe and Miami-Dade Counties. You may also email us to schedule an appointment.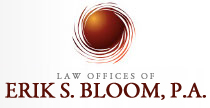 Coral Springs Office:
11555 Heron Bay Blvd. Suite 200
Coral Springs, FL 33076
Phone: 954-464-3210
Key Largo Office:
100410 Overseas Highway, #203
Key Largo, FL 33037
Phone: 954-464-3210