Florida Title Attorneys
Home
Available 24/7
954-464-3210
Many of our clients have asked me whether or not I believe the Mortgage Forgiveness Debt Relief Act of 2007 will be extended past its current expiration scheduled for the end of this year. As a reminder, the legislation ensures that homeowners who received principal reductions or other forms of debt forgiveness on their primary residences do not have to pay taxes on the amount forgiven.  This law expires at the end of 2012.
The reason this act is important in today's housing market is that, without the act, debt reduced through mortgage modifications or short sales qualifies as income to the borrower and is taxable. If the legislation is not extended, then it would require homeowners to complete a short sale or modification prior to this year's end in order to avoid a tax consequence.
Recently, it was reported that Obama's 2013 budget proposal includes an extension of the Mortgage Forgiveness Debt Relief Act of 2007.
In the Treasury's Green Book, its summary explanation of the administration's budget proposal, it calls for an extension of the tax break due to "the continued importance of facilitating home mortgage modifications."
The administration is proposing an extension that would apply to any amounts forgiven before January 1, 2015."
As a Coral Springs real estate attorney, I have seen first-hand how effective short sales can be for underwater homeowners.  Short sales have become an essential tool for homeowners across South Florida and the Florida Keys.  If these homeowners are charged with tax liability as a result of these sales, it could devastate the housing market recovery.  Fortunately, both political parties seem to be in agreement that this provision should be extended. I truly hope that it doesn't fall victim to an election year.
The Islamorada title company of the Law Offices of Erik S. Bloom, P.A. has closed thousands of purchase and refinance transactions throughout the State of Florida on behalf of real estate and mortgage professionals, including short sales and foreclosures.  Our Florida Keys real estate lawyers provide the highest level of professional services available in the title industry.  Call our firm today at (954) 603-0550 in Broward and (305) 290-0690 in the Florida Keys and Miami-Dade County.  You can also email the firm at [email protected].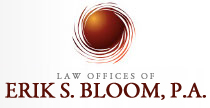 Coral Springs Office:
11555 Heron Bay Blvd. Suite 200
Coral Springs, FL 33076
Phone: 954-464-3210
Key Largo Office:
100410 Overseas Highway, #203
Key Largo, FL 33037
Phone: 954-464-3210