Florida Title Attorneys
Home
Available 24/7
954-464-3210
Coral Springs Real Estate Lawyer Sees Housing Market Rebound in 2012 as Banks Loosen Credit Standards
Capital Economics expects the housing crisis to end this year, according to a report released in February. One of the main reasons is banks continuing to loosen credit and relax underwriting restrictions.
The analytics firm noted the average credit score required to attain a mortgage loan is approximately 700. While this is higher than scores required prior to the crisis, it is constant with requirements one year ago evidence that banks are no longer tightening their standards.  This is great news for clients of our Islamorada title company and will allow more buyers into the market.
Other market indicators point not just to a stabilization of mortgage lending standards, but also a loosening of credit availability.  Banks are now lending amounts up to 3.5 times borrowers' earnings. This is up from a low of 3.2 times borrower earnings during the housing crisis.  Banks are also loosening loan-to-value ratios (LTV), which Capital Economics denotes "the clearest sign yet of an improvement in mortgage credit conditions."  In contrast to a low of 74 percent reached in mid-2010, banks are now lending at 82 percent LTV.  This will give buyers greater flexibility to structure purchases and allow more transactions to make it to the closing table.  It will also allow more clients of our Tamarac title company to refinance when their equity is limited.
As Coconut Creek real estate attorneys, we receive a significant number of calls from prospective clients who want to purchase or refinance, including clients looking to do short sales.  Our firm processes purchase and refinance closings on behalf of lenders, mortgage professionals, realtors and other real estate professionals in all 67 Counties across Florida, including communities such as Boca Raton, Coconut Creek, Sunrise, Ft. Lauderdale, Plantation, Davie, Weston, Pembroke Pines, Miami and Homestead. The firm also provides title and closing services to the Florida Keys, including the communities of Key Largo, Islamorada, Marathon, and Florida City.
Please call the Key Largo Real Estate Lawyers at the Law Offices of Erik S. Bloom, P.A. today for a complimentary appointment.  Please call us at (954) 603-0550 or you can email us at [email protected] to set up a free consultation.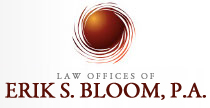 Coral Springs Office:
11555 Heron Bay Blvd. Suite 200
Coral Springs, FL 33076
Phone: 954-464-3210
Key Largo Office:
100410 Overseas Highway, #203
Key Largo, FL 33037
Phone: 954-464-3210