Florida Title Attorneys
Home
Available 24/7
954-464-3210
Coral Springs Real Estate Attorney Says Working with an Experienced South Florida Title Company Increases Your Chances for a Successful Closing
While many experts see the real estate market across Florida and the nation as finally turning the corner, getting to the closing table is far from automatic for real estate professionals these days.  In fact, a recent report shows that nationally, nearly one-third of executed real estate contracts failed to close last month.  
What's behind the unusually high rate of contract cancellations and settlement delays?  With signs of recovery emerging in many parts of the country including South Florida, shouldn't deals be moving forward with minimal delays and complications? 
Apparently not. Nearly one-third of real estate agents in a new national survey reported experiencing contract cancellations — purchases falling apart prior to closing — in February. That's up dramatically from a similar poll 12 months earlier, when just 9 percent of agents reported cancellations. Another 18 percent reported delays in scheduled closing according to the National Association of Realtors. 
The high reported cancellation rate (31 percent) doesn't mean that nearly one of every three of all executed contracts is falling apart, according to the association, but rather that more than triple the number of agents and their clients are running into deal-endangering problems compared with 2011. If you are a real estate professional, it is more important than ever to use the services of an experienced Marathon real estate lawyer to ensure the potential issues that are hampering sales are dealt with in advance of closing. 
Which problems regularly hamper deals?  Leading the list are: 
– Appraisals below contract 
– Ultra-conservative underwriting and documentation requirements 
– Poor service by lender staff 
Bottom line: If you seriously want to go to closing on a house you're buying or selling, make sure you retain the services of an experienced Key Largo title company.  In this market,  a proactive Islamorada title company is necessary in order to ensure that all parties are "pushing" the deal forward.
The Weston real estate lawyers at Law Offices of Erik S. Bloom, P.A. has closed thousands of residential and commercial real estate transactions across Florida on behalf of real estate professionals, including closings in Boca Raton, Coral Springs, Parkland, Pembroke Pines, Ft. Lauderdale, Miami, Homestead, Florida City, Key Largo, Islamorada, Marathon and Key West.  Whether you are a real estate professional or the buyer or seller of a home, call the Tamarac real estate lawyers at the Law Offices of Erik S. Bloom, P.A. today and we will take care of all of your title and real estate closing needs.  Please call us at (954) 603-0550 or you can email us at [email protected].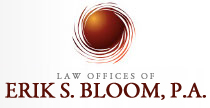 Coral Springs Office:
11555 Heron Bay Blvd. Suite 200
Coral Springs, FL 33076
Phone: 954-464-3210
Key Largo Office:
100410 Overseas Highway, #203
Key Largo, FL 33037
Phone: 954-464-3210