Florida Title Attorneys
Home
Available 24/7
954-464-3210
Title Company Serving all of South Florida with Offices in the Florida Keys and Broward County. The Law Offices of Erik S. Bloom, P.A. is a full service title agency and real estate law firm which provides its clients with comprehensive real estate and title services.
The firm focuses its real estate practice in the areas of residential closings, commercial transactions, short sales, foreclosures, leases, corporate transactions and real estate litigation. The firm provides services to real estate professionals throughout the State of Florida including Broward, Monroe, Miami-Dade and Palm Beach Counties.
Our residential closing department functions as a full service title company using our licensed attorneys to better protect our clients' interests. The title attorneys at our firm have successfully closed thousands of transactions on behalf of realtors, lenders, mortgage brokers, developers, investors as well as buyers and sellers.

Coral Springs Real Estate Attorneys at the Law Offices of Erik S. Bloom, P.A., Process and Close Short Sales Throughout Florida, Including Broward County, Miami-Dade County and the Florida Keys. A Short Sale is the sale of real estate where the proceeds from the sale are less than the balance owed on the property's loan(s).  As a result, the seller does not realize enough money from the sale to pay off the loan(s) in full.  This leaves the homeowner with two options.  The first is...Continue Reading!
Coral Springs Real Estate Lawyers at the Law Offices of Erik S. Bloom, P.A. Process HARP 2.0 Loans on Behalf of Lenders and Mortgage Professionals Across Florida If you're underwater on your conforming, conventional mortgage, you may be eligible to refinance despite your negative equity.  HARP (Home Affordable Refinance Program) was started in April 2009. The program has been re-launched as HARP 2.0 with more relaxed guidelines in March 2012.  The new guidelines are designed to allow more underwater borrowers to qualify for the program.  Many homeowners...Continue Reading!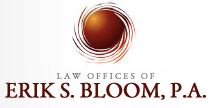 Coral Springs Office:
11555 Heron Bay Blvd. Suite 200
Coral Springs, FL 33076
Phone: 954-464-3210
Key Largo Office:
100410 Overseas Highway, #203
Key Largo, FL 33037
Phone: 954-464-3210