Florida Title Attorneys
Home
Available 24/7
954-464-3210
Erik Bloom is the founder and principal of Law Offices Of Erik S. Bloom, P.A. Erik has extensive experience representing clients in all phases of real estate and business transactions.
A graduate of the one of the top law schools in the country, Duke University School of Law, and a former associate at one of the nation's largest law firms, Erik provides exceptional, client-focused legal representation. Formerly the founder of Parkland Title, Erik has successfully closed thousands of residential and commercial real estate transactions on behalf of lenders, realtors, mortgage brokers, investors and individuals. Erik's large firm experience representing national clients in multi-million dollar complex real estate and business transactions along with his extensive experience as a title insurance agent enables Erik to provide unparalleled representation to his clients along with the highest level of personal attention only available from a boutique firm.
Erik has been living in South Florida for forty years and resides in Key Largo with his wife and two children. Erik spends a great deal of time in his office locations in both Coral Springs and Key Largo.  When out of the office Erik is an avid outdoorsman and can usually be found boating, fishing and coaching his kids at their sporting events.
Email:  [email protected]
Key Largo Office:
Telephone: 954-464-3210 (Key Largo)
100410 Overseas Highway, #203
Key Largo, Florida 33037
Coral Springs Office:
Telephone: 954-464-3210 (Coral Springs)
11555 Heron Bay Blvd., Suite 200
Coral Springs, Florida 33076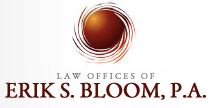 Coral Springs Office:
11555 Heron Bay Blvd. Suite 200
Coral Springs, FL 33076
Phone: 954-464-3210
Key Largo Office:
100410 Overseas Highway, #203
Key Largo, FL 33037
Phone: 954-464-3210