Florida Title Attorneys
Home
Available 24/7
954-464-3210
Coral Springs Real Estate Lawyers at the Law Offices of Erik S. Bloom, P.A. Process HARP 2.0 Loans on Behalf of Lenders and Mortgage Professionals Across Florida
If you're underwater on your conforming, conventional mortgage, you may be eligible to refinance despite your negative equity.  HARP (Home Affordable Refinance Program) was started in April 2009. The program has been re-launched as HARP 2.0 with more relaxed guidelines in March 2012.  The new guidelines are designed to allow more underwater borrowers to qualify for the program.  Many homeowners across South Florida are eligible to refinance through the HARP 2.0 program.
In order to be eligible for the HARP 2.0 refinance program :
1.            Your loan must be backed by Fannie Mae or Freddie Mac.  Fannie Mae and Freddie Mac have "lookup" forms on their respective websites. Check Fannie Mae's first because Fannie Mae's market share is larger. If no match is found, then check Freddie Mac. Your loan must appear on one of these two sites to be eligible for HARP 2.0.  If the mortgage is held by Fannie Mae or Freddie Mac, are you instantly-eligible for the Home Affordable Refinance Program?  No. There is a series of criteria. Having your mortgage held by Fannie or Freddie is just a pre-qualifier.
2.            Your current mortgage must have a securitization date prior to June 1, 2009
If you meet these two criteria, you may be HARP 2.0 eligible. If your mortgage is FHA, USDA or a jumbo mortgage, you are not HARP 2.0 eligible.
As a Coral Springs title company, we receive a significant number of calls from prospective clients who are underwater on their homes.  These borrowers have been making regular payments to their mortgage company but cannot refinance into a better rate because of their negative equity.  Our full service real estate law firm and title agency processes residential real estate closings on behalf of lenders, mortgage professionals, realtors and other real estate professionals in all 67 Counties across Florida, including communities such as Parkland, Coconut Creek, Sunrise, Ft. Lauderdale, Weston, Pembroke Pines, Homestead, Key Largo, Islamorada, Marathon and Key West.
If you or someone you know wants to determine if you qualify for a HARP 2.0 loan, or are considering other options such as a short sale, please call the Parkland Real Estate Lawyers at the Law Offices of Erik S. Bloom, P.A. today for a complimentary appointment.  Please call us at (954) 603-0550 or you can email us at [email protected] to set up a free consultation.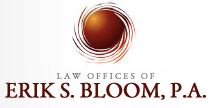 Coral Springs Office:
11555 Heron Bay Blvd. Suite 200
Coral Springs, FL 33076
Phone: 954-464-3210
Key Largo Office:
100410 Overseas Highway, #203
Key Largo, FL 33037
Phone: 954-464-3210