Florida Title Attorneys
Home
Available 24/7
954-464-3210
Broward County is a county located in the State of Florida. As of 2010, the population was 1,748,066, making it the second most populated county in the state.  Its county seat is Ft. Lauderdale.
It is also the eighteenth most populous county in the United States and one of three counties that comprise the South Florida metropolitan area, along with Miami-Dade and Palm Beach Counties.
The Law Offices of Erik S. Bloom, P.A. is a full service title company and law firm which provides its clients with comprehensive real estate and title services.  Our Broward County title company and law firm focuses its practice in the areas of residential closings, commercial transactions, short sales, foreclosures, leases, corporate transactions and real estate litigation.  The firm provides title services to real estate professionals throughout the State of Florida, including cities such as Coral Springs, Parkland, Tamarac, Coconut Creek, Boca Raton, Sunrise, Plantation, Weston, Pembroke Pines, Miami, Homestead and Florida City.  The firm also has a presence in the Florida Keys, servicing the areas of Key Largo, Islamorada, Marathon and Key West. 
We are pleased to represent clients from Broward County. Please contact the Broward County real estate lawyers at the Law Offices of Erik S. Bloom, P.A. at (954) 603-0550. You can also contact the firm by emailing us at [email protected] or through one of the many contact forms located on the firm's website. We look forward to hearing from you.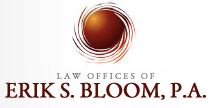 Coral Springs Office:
11555 Heron Bay Blvd. Suite 200
Coral Springs, FL 33076
Phone: 954-464-3210
Key Largo Office:
102901 Overseas Highway,
Key Largo, FL 33037
Phone: 954-464-3210