Florida Title Attorneys
Home
Available 24/7
954-464-3210
Coral Springs Title Company Finds that Title Insurance is More Important than Ever in Tough Economic Times
In difficult economic times, title insurance is a critical tool in protecting yourself from others' financial problems.  Homebuyers and Lenders buy title insurance to ensure that a property can be legally transferred from the seller to the buyer. It protects you (or your mortgage lender) against problems relating to the property's title prior to the date of the policy. Everything in the real estate transaction process depends on having a clear title on the property. If your title is not clear, there will be a problem selling the home in the future.
Title issues are very common and happen more often than homebuyers realize.  In order to avoid any number of problems with the purchase of a property, tile insurance is must-have for the buyer.  Title problems also regularly turn up in foreclosures, and with foreclosures come a higher number of claims.  As such, is critical to have a knowledgeable Broward County Title Company to handle your transaction.    
Dangers that affect titles in a bad economy
Debts: A lien on your property securing the repayment of a debt (such as foreclosure).
Divorce: Pension and property are the primary assets that are distributed in a divorce. If you are a couple that has negative equity in a home, you'll likely have to split the debt. Your spouse may contest the title and deny being the true owner to avoid paying his portion of the debt.
Fraud and forged signatures on a deed: Fraudulent mortgages can run rampant in hard times.
Falsified records: A corrupt real estate agent could declare that a house is marketable when it's not.
Seller disclosure: Misinformation related to the history of the home and its physical characteristics, conditions and other factors affecting the value of the property.
"Wild deed": An improperly recorded deed that affects ownership rights.
Adverse possession: Somebody who possesses the land of another for an extended period of time may be able to claim legal title to that land. They have to prove that they have been in an "actual, open, notorious, exclusive, and continuous occupancy of property" for the period required by state law.
Aside from the homeowners who are "walking away" from their mortgages, there are a number of problems that can occur with an unclear title.  During these uncertain economic times, there is an unfortunate increase in unpaid child support and judgment liens, tax and special district liens from delinquent assessments as well as numerous other potential issues. There are now many local governmental agencies that are recording liens associated with maintenance of abandoned foreclosure properties that would be a costly surprise for an unwary buyer.
As a Florida Keys Title Company, we have closed thousands of real estate transactions throughout Florida on behalf of real estate professionals, including short sales and lender owned properties.  Our Islamorada real estate lawyers provide title and closing services in all 67 Counties in Florida, including Monroe, Miami-Dade, Broward and Palm Beach. 
Whether you are a real estate professional or the buyer or seller of a home, call the Coral Springs real estate lawyers at the Law Offices of Erik S. Bloom, P.A. today and we will take care of all of your title and real estate closing needs.  Please call us at (954) 603-0550 or you can email us at [email protected].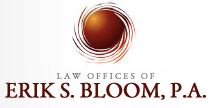 Coral Springs Office:
11555 Heron Bay Blvd. Suite 200
Coral Springs, FL 33076
Phone: 954-464-3210
Key Largo Office:
100410 Overseas Highway, #203
Key Largo, FL 33037
Phone: 954-464-3210