Florida Title Attorneys
Home
Available 24/7
954-464-3210
Coral Springs Real Estate Lawyer Says Many Homeowners Deciding that Now is the Right Time to Refinance
Bills.com recently ran an article about the decision to refinance.  As a Key Largo Title Company, many homeowners contact us for guidance when wondering whether the time is right to refinance.  We are reposting the article below as a helpful resource for homeowners:
Is Now the Right Time for You to Refinance?
For many homeowners, deciding if a mortgage refinance makes sense is a key question, more important than knowing what the current mortgage rates are or which lender to trust. A smart decision requires weighing different factors, ones that vary based on the needs of each homeowner.
You are wise to consider refinancing if:
• your current mortgage has a high interest rate
• you are stuck in an adjustable rate mortgage
• you want cash out or to consolidate your debt
• you need a lower monthly payment and are willing to extend the time frame to pay off your loan
The only way to see if you can save money is by actively investigating your options.
Know Your Goals
The number one reason that homeowners refinance their mortgage is to lower their payment! With a rate and term refinance or even a cash-out refinance, homeowners can lower the amount of money that they spend on their mortgage each month. By lowering the current monthly mortgage payment, a homeowner is basically picking up free money. Who doesn't like that!?
Your Situation — Are You Ready?
Before trying to determine if the timing is right for you to refinance, assess your current situation and goals for the property.
1. Do you plan to be in your home for a short or long term?
2. Are you currently in an adjustable rate mortgage (ARM) and willing to pay a higher rate to gain the security of a fixed-rate mortgage?
3. Might you benefit from the lower rate and payment that a short-term ARM might provide?
4. Do you have enough equity to pull some cash out of the home to pay off other debt or use for home improvements?
Once you've considered your short- and long-term goals in relation to your current house, you can find the right loan for your situation.
Stable Income
Next consider whether you are in a stable enough situation with your job, income and the local housing market.
1. Have you been at your job, or in the same industry for two or more years?
2. Have you recently lost a job or had your income reduced?
3. Are your expenses stable or are they increasing?
4. Are houses in your neighborhood selling well, or is the market depressed?
The answers to these questions will tell you whether your situation is stable enough to qualify for a new mortgage. If your situation is not stable, you are probably not ready and not as likely to qualify. In that case, use this time to work on a budget, trim your expenses and work on improving your income situation. Then wait for the home values in your area to turn around and stabilize. If your situation is stable, then it's a good time to look at refinancing.
Lower Rate and Save Cash
The No. 1 reason for refinancing your mortgage is to save money off of your current mortgage payment. A rate and term refinance can shave hundreds, even thousands off of your monthly payment. And the effort to do this is usually relatively light. With a rate and term refinance, you are going to a new lender (or even your current lender) and asking them for a new loan to pay off your existing loan, though the terms of the new loan are more favorable to you. One important consideration is to avoid paying a significant amount of out-of-pocket fees in order to get your loan done. The more you spend up front, the larger your monthly savings will have to be to earn that money back.
Cash-Out Refinancing — When is it Smart to Pay Other Debt?
If you have a significant amount of outstanding debt (including credit card debt, home equity lines or loans, unsecured loans, even student or auto debt), AND a good amount of equity (generally 30% or more), then you are in a position to consider a cash out refinance. When considering whether to add non-real estate debt (that is all debt other than your current mortgage balance) to your mortgage, you should understand the positives and negatives.
One positive is the ability to lower the current interest rate that you pay on your other debt. More often than not, a mortgage loan will be the cheapest way to access credit. If, for example, you are paying 15% on a credit card balance of $10,000, by paying the credit card company off with proceeds from a cash out refinance, you will effectively lower that interest rate to 5% (or the rate you get on your mortgage) on the $10,000 balance.
On the negative side, that debt will now be paid back over the same term as your mortgage loan, which is usually a 15- or 30-year period. You will reduce the amount interest you pay over a shorter time period, you are now extending that $10,000 credit card balance over a period of up to 30 years, and you'll pay 5% over that whole period. In short, it will reduce your payments in the short term, but because you pay for it over a far longer period, your expense is greater.
Another advantage is the ability to take cash to use for other purposes… an investment opportunity, college education, a vacation or even setting up a rainy day fund. When you refinance short-term debt into a long-term mortgage, you end up paying for whatever you use the cash for a very period. It's a personal decision and depending on your situation, it may make sense to take cash now that you will end up paying back at a low rate but over a longer period. Be sure to understand that when you use a mortgage refinance to take cash from your home, you reduce your equity (or ownership) in your home. If housing prices fall and you end up owing more on the home than it is worth, you could end up unable to sell the home easily.
We realize that many of you who read the above article will think they are not eligible to refinance because your homes are upside down.  It is important that we point out that the updated HARP 2.0 program offers many members of our community the ability to refinance even when their homes are "underwater".  Call our firm today for more information about this new program.
The Coral Springs real estate lawyers at the Law Offices of Erik S. Bloom, P.A. have closed thousands of refinance and purchase transactions throughout Florida on behalf of real estate professionals, including short sales and lender owned properties.  Our Florida Keys title company closes transactions in all 67 Counties in Florida, including cities such as Parkland, Coconut Creek, Tamarac, Plantation, Weston, Ft. Lauderdale, Homestead and Florida City.  The firm also has a presence in the Florida Keys, including Key Largo, Islamorada, Marathon and Key West.  Please contact the firm today at (954) 603-0550 for a free consultation.  You can also email the firm at [email protected].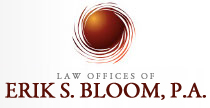 Coral Springs Office:
11555 Heron Bay Blvd. Suite 200
Coral Springs, FL 33076
Phone: 954-464-3210
Key Largo Office:
100410 Overseas Highway, #203
Key Largo, FL 33037
Phone: 954-464-3210